If ever I have a writing 'off day' where I start to feel like I'm stuck in a rut, I take a quick look at the word cloud below. It fills me with excitement when I remember just how varied and flexible the written word can be. There are forms for all occasions.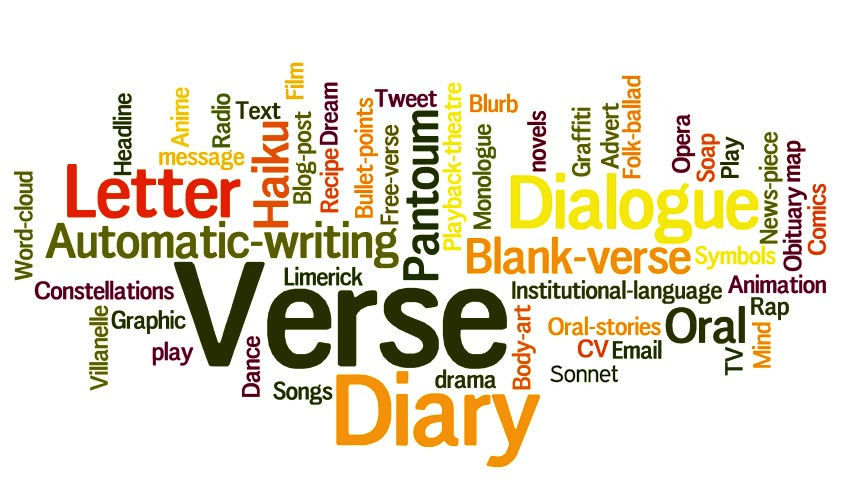 Take dialogue writing, for example. Sometimes swallowed up under the umbrella of 'prose' and other times seen in the context of stage or screen, it can also be enjoyed as a form in its own right. Actually, it's one of my favourite – my go-to option when I want to get the creative juices flowing, or to explore an uncharted topic; I have a conversation with a character, an object or even a part of myself.
For another shot of inspiration, I can always rely on poetry and its many forms. When free verse feels a bit too unstructured and – well – 'free', I like to try experimenting with a sonnet, a pantoum, a soul-quenching haiku, or even a list poem (another favourite of mine since it's so deliciously simple).
If I want to work through a particular road block in my mind, I might write a letter. To perform a mental declutter, I'll give free writing a go.
Usually by this stage I'm well out of my writing rut, but I could go on. I could write a creative recipe, conjure up a story in the form of a CV, or even turn my tweets into poetry (If you fancy experimenting with that last one, Poetweet is a fun tool). There are still so many avenues to explore – enough to last me a lifetime, I'm sure.